The two most successful clubs in English football kick off this morning in a fixture that will go a long way to sorting out a muddled top 4 race. Spots 2-6 are separated by six points, but that margin will shrink to three with a United win today. Liverpool will close to within five points of league leaders Chelsea with a win at Old Trafford, a place where they've only won two of their last twelve.
TEAM NEWS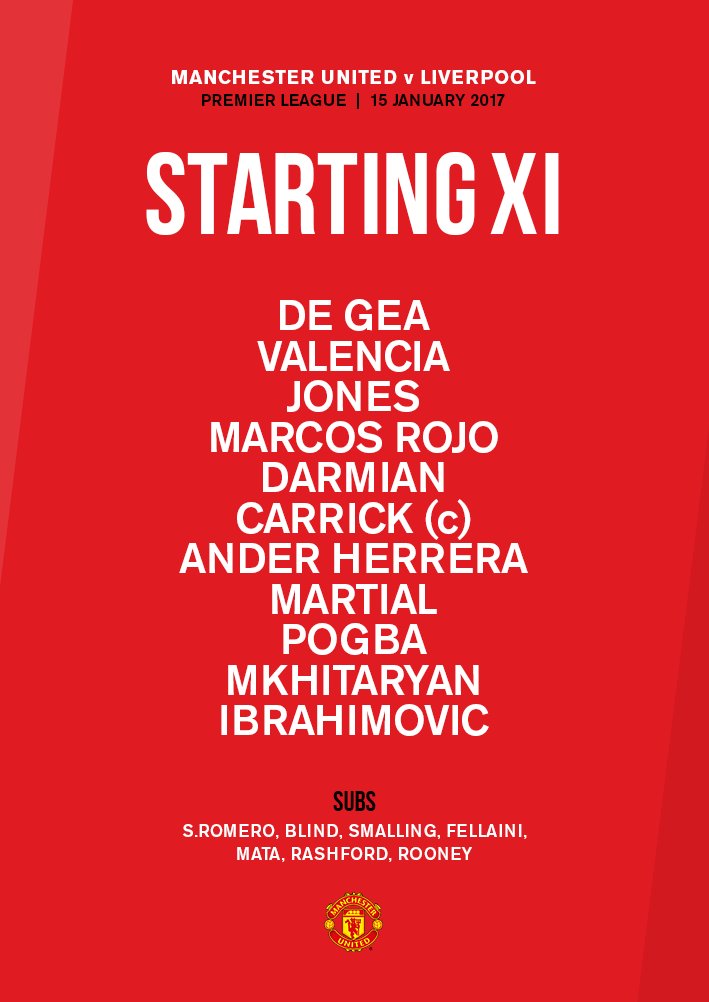 Pretty standard for United. Rojo and Ibrahimovic missed the cup tie on Tuesday with injuries/illness but both are fit to play. The only slight surprise is Darmian at left back. Would've figured a veteran like Dailey Blind would get the assignment in a big game like this, but Mourinho favoring pace in the wide areas today.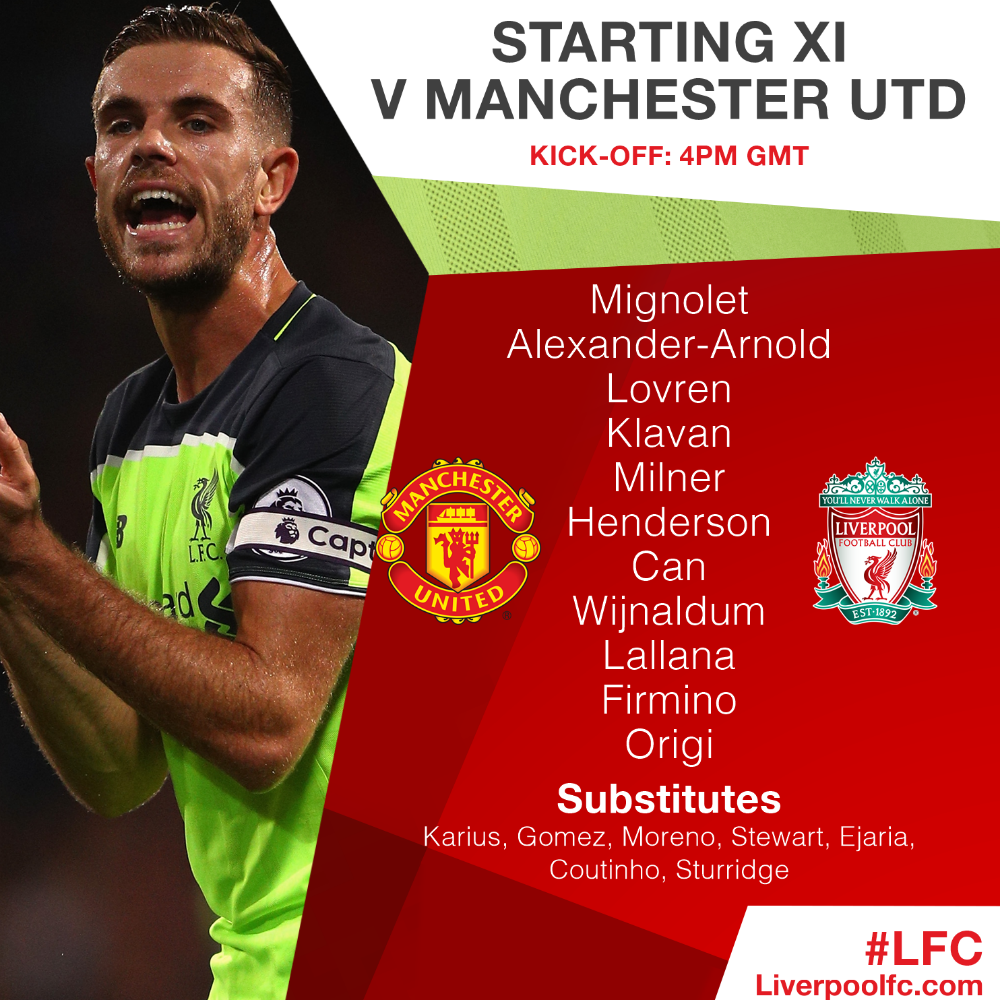 Rather large news in the Liverpool team as Coutinho and Sturridge are not fit to start and will begin on the bench. Nathaniel Kline is out and so a youngster by the name of Alexander-Arnold will start (the broadcasters say that his father works for United). Given the lineups and relative help, anything but a win from United would have to be seen as a disappointment.
1′ – Liverpool gets us underway heading into the Stretford end.
2′ – United pressing quite high early, a start difference from the bus parking at Anfield earlier in the season.
3′ – Origi wins a corner for Liverpool but De Gea catches cleanly.
6′ – First run of play for United sees a buildup on the right hand side but a Valencia cross can't find a red jersey. Haphazard start for both sides thus far.
8′ – Already clear that Martial is going to make the new kid work on United's left hand side. Liverpool defenders scrambling to help him as soon as Martial gets on the ball.
12′ – United get going on the left after some interchange between Pogba and Darmian. Martial gets it in the box and goes to ground but nothing in it. Closest either side has come to creating anything thus far.
14′ – Martial again making a run at the kid, committing at least three Liverpool defenders with him. A cross into Ibrahimovic is a bit long. First touch of the ball for the kid on a back pass to Mignolet and he doesn't wet himself so he's settling in.
17′ – Pogba gets caught on the ball and sends Liverpool on its way but the opportunity is lost as the kid sends a first-time ball into the Stretford End. Ibrahimovic pounces on a poor back pass but the ball ends up on top of the goal.
19′ – CHANCE. Mkhitaryan sends Pogba in on goal but the frenchman sends it just wide. Mignolet made it a difficult task by closing down Pogba, but he must hit the target.
21′ – The game is opening up a bit. Rojo to Pogba to Mkhitaryn creates another opportunity but Mignolet swallows up the cross. Finally some football being played here.
23′ – A Liverpool free kick creates sort of a quarter-chance but nothing threatening to De Gea. In other news, this is the first time ever a spider cam is being used in the Premier League and it's pretty great.
26′ – PENALTY. Pogba gets caught handling the ball in the box on a Liverpool corner. Huge moment here. No dispute from Pogba. Milner buries it for Liverpool and it's 1-0.
30′ – Liverpool with some very high pressing to follow up their goal. United wins a free kick in a semi-dangerous area on a questionable decision by referee Michael Oliver. United wins a corner off the free kick. And now a very dangerous free kick chance about a yard outside of the box for United. Great strike from Zlatan but Mignolet saves it.
36′ – Valencia getting forward for United wins a corner but nothing comes of it. The pressing is giving United fits and you wonder if Mata will need to be brought in to settle down the side a bit.
40′ – Seems unlikely anything will give before halftime here. Assuming United makes a change at half. Their struggles staying on the ball are too obvious not to.
41′ – Mkhitaryan somehow gets free in on Mignolet but the Liverpool keeper stops it.
HT – A couple of Liverpool free kicks but nothing really threatening to close the half. United appear the more dangerous side but the penalty is the only scoring thus far. Pogba mostly invisible after he gave it away. They'll need him on the ball pressing forward if they are to find three points out of this game. Mourinho has been on point with substitutes in recent weeks. We'll see what he cooks up here.
46′ – Well the sub is Rooney for Carrick. Interesting, though Carrick didn't really make an impact in his first half. Rooney is one goal from setting the club record. What a story it would be if he set it against Liverpool…
49′ – Liverpool counter leads to a chance for Origi, whose shot is deflected wide for a corner, which leads to nothing. United will surely be pushing for a goal here, and Liverpool is dangerous on the counter. If Liverpool finds a second, it will surely be through that rout.
51′ – United free kick in a dangerous area is lacking. Free kick and corner kick deliveries haven't been particularly special today.
54′ – Massive chance for United. Martial takes the kid off the ball. Mkhitaryan gets played in and crosses to Martial who can't get a touch. Pressure building here.
57′ – Rooney able to get behind the Liverpool back four and get off a cross but it's straight to Mignolet. United have been quite dangerous once they've unlocked the high press.
59′ – Ander Herrera has been rather poor for United today.
60′ – Coutinho will enter for Liverpool. Mata getting instructions to come on for United. Coutinho will add a bit of on-ball quality to help try to kill this game for Liverpool. We'll see who Mata replaces. Coutinho helps create a chance straight away but De Gea saves it.
62′ – Mata will reportedly replace Martial, which is rather surprising as Martial has played with good intent today.
64′ – Liverpool defensive shape has been very strong in the face of United's pressure. United pushing the  ball in but a Liverpool defender on the end of everything. Mata officially on for Martial.
67′ – With an extra United attacker on, Liverpool are finding some extra room at the top of the box. Could be a good spot for a Coutinho strike to end it if they can find it.
69′ – The Liverpool defense remains locked in nicely. Lots of interplay for United but unable to find a way through.
74′ – Liverpool doing a decent job of keeping the ball while not committing too many men forward. Looks like Rashford will come on here soon for United.
75′ – Pogba gets caught on the ball for him. Not earning his wages today. The attack for Liverpool results in a header over the bar. The final United sub is Fellaini on for Darmian, presumably to win some midfield headers.
77′ – Herrera with another wayward ball to nobody. His performance has left a lot to be desired today.
79′ – Fellaini has done exactly what he was brought on to do, which is to win 50/50 balls in the midfield. Nothing has come of it yet though as time begins to run low for United.
82′ – Rooney gets a chance but is flagged for offside.
83′ – GOAL. Zlatan puts it in improbably for United. Valencia down the right gets it into the top of the box for a Fellaini header that hits the bar. But Valencia chases it back down and crosses to Zlatan who heads it home. Grandstand finish coming here.
85′ – United with tons of attacking players on now as a result of playing from behind. Could benefit them in the last five minutes. Or it could kill them if they have to actually defend.
90′ – United with a buildup but unable to work their way through. Yellow card on Herrera to stop the Liverpool counter. Four minutes added on.
90 + 2 – Huge chance for Liverpool but it's right to De Gea. Desperate play on both ends at this point. United wins a free kick around midfield with a minute left.
FT – 1-1. The teams share the honors in what is probably a fair result. United were more dangerous, but Liverpool deserved something from the game for their defensive efforts and discipline. United now unbeaten in 16, pulling to within two points of City, but their winning streak is done at six in the league and nine in all competitions. Man of the Match performance from Valencia, who was terrific running up and down the right hand side and assisted on the equalizing goal.
United Player Ratings
De Gea (7) – Saved the only on-target shots in the run of play, but neither were particularly difficult. He let in the Milner penalty but it was a quality PK and De Gea had no chance to save it.
Darmian (7) – Surprisingly not bad performance from the young lad, who was the most surprising inclusion in the XI. Got forward and was involved in some effective link-up play on the left. Didn't have a lot of defending to do.
Jones (6) – Was caught on the ball a few times which could have been disastrous but Liverpool's absences (namely Coutinho and Mane) meant that the final touch was lacking for LFC.
Rojo (8) – Solid outing for the fullback-turned-centerback who was the most effective in dealing with the Liverpool high press. He's going to be tough to drop from the XI when Bailly returns from African Cup of Nations duty.
Valencia (9) – Man of the Match performance from the Ecuadorian, who assisted on the equalizer and was quite dangerous on the right, popping in cross after cross and committing Liverpool wingers forward, stunting any counter LFC could offer. Like Darmian, not asked to do much defending out wide.
Herrera (5) – Forgettable performance in a forgettable game in general for the United midfield 3. Struggled on the ball and was panicky with his passing against the LFC press, leading to many wayward efforts sprayed around the park.
Carrick (4) – Really struggled against the Liverpool pace and couldn't orchestrate much on the ball, which is the whole point of having him in. Struggled tracking back when needed, which is the case in general for the 35 year old. Subbed off at half, which was a smart move.
Pogba (1) – Disastrous performance for the most expensive footballer in the world. Caught on the ball in midfield pretty routinely. Completely lost defending set pieces, as evidenced by the penalty he conceded that led to LFC's only goal. His only chance to truly effect the game was a chance in on Mignolet in the first half where he missed the target. Never really made his mark after that.
Martial (8) – Really strong effort from the other Frenchman. He was matched up against the young right back Alexander-Arnold. It was clear Martial's marching orders were to run at him at every opportunity. Generally pretty confident performance. It was surprising to see him taken off in the second half for Mata.
Mkhitaryan (8) – Really finding his form on the right hand side of United's attack. Always the most likely player to create for United and most comfortable on the ball against the Liverpool press. Had some chances on goal but nothing too clear cut. Probably United's best player at the moment, alongside…
Ibrahimovic (8) – Scored the lone United goal and was a load for the undersized Liverpool defenders. Showed no ill-effects from the illness that kept him out of the Cup semifinal on Tuesday. Now tied with Alexis and Diego Costa atop the Premier League goal table.
Rooney (7) – Came on at halftime for Carrick and was slightly better than the man he subbed for. He was taken off the ball too easily on some occasions. Had some half chances to score a storybook record setting goal but couldn't find the target.
Mata (6) – Came on for Martial but never impacted the game. He's usually a pretty solid option to be involved in some link-up play in tight spaces, which would have been needed against a compact Liverpool defense, but it never really materialized.
Fellaini (8) – An excellent addition late who was brought on to win 50/50 balls in the midfield and did just that, helping to create several equalizing opportunities. He hit the bar with a header during the build-up to the equalizer. A much maligned player among United supporters, he proved useful in this narrow role.